The popular Osaki OS-4000T is a full function massage chair that automatically detects the natural curvature of the human body and adjusts the massage to fit. The Zero Gravity position elevates your legs above your heart and more evenly distributes your weight. The OS-4000T also features a full body air massage, seat vibration, heat therapy, 8 automated programs, new foot rollers and more. Sit back and enjoy one of our best sellers.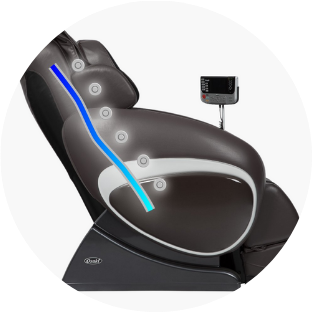 Ergonomic S-Track Massage
The Osaki OS-4000T's quad roller mechanism follows the natural S-shaped curvature of your spine with a consistent massage pressure.
Many massage chairs are designed with an uncomfortable straight track which applies an intense massage in the mid-back area and poorly targets the neck and lower back regions. With the OS-4000T's sophisticated S-Track design, however, you can expect a uniform, hand-like massage along the neck, shoulders, mid and low back. In total, the OS-4000T's roller system measures 30″ in length.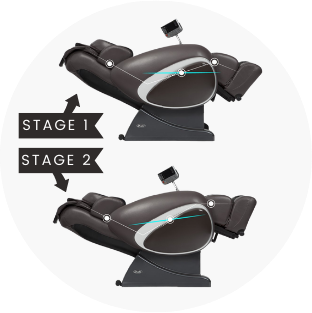 Inspired by NASA technology, Zero Gravity is the perfect position to enjoy a massage, aligning your back relative to your thigh at an optimal level of comfort. When reclined into Zero Gravity, the complete weight of your back is virtually supported by the backrest which maximizes the intensity of the massage. There are two stages of Zero Gravity, the 2nd being more reclined, relative to the seat base.
Zero Gravity relieves pressure on the spine, relaxes the neck and back, increases blood oxygen levels, expands lung capacity, and helps correct spinal alignment. When reclined such that your legs are positioned higher than your heart, the therapeutic effects are incredibly effective and may be felt immediately.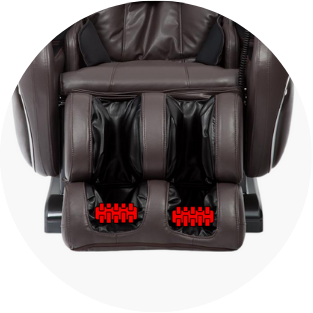 There are two rows of spinning reflexology massagers which apply a soothing, kneading style application to the bottom of the feet. As the rollers spin, they stimulate the feet's acupuncture points.
Additionally, airbags inflate in a downward motion onto the sides of the feet, pushing them into closer contact with the foot rollers.