The Osaki OS-Pro Soho's contemporary design and advanced functionality makes it a well-rounded massage chair choice. The chair's cutting-edge 4D roller technology on a 32" S-Track permits you to modify the firmness of the roller heads up to five levels. The OS-Pro Soho comes equipped with multiple heat elements, a unique reversible footrest, a shoulder adjustment, Bluetooth, six auto programs, body scanning, full body airbags, space saving recline, Zero Gravity, and more.
Osaki OS-Pro Soho 4D Features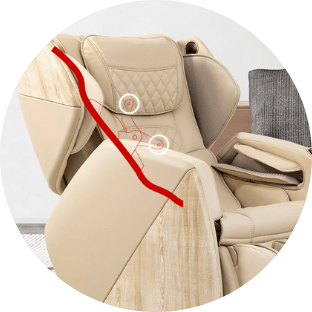 The Osaki OS-Pro Soho's 32″ S-Track follows the natural S-shaped curvature of your spine. The chair's quad roller system massages your neck, shoulders, entire back, and upper glutes. The S-Track roller system is expertly designed to naturally retract and extend along some regions of the track, resulting in a uniform massage.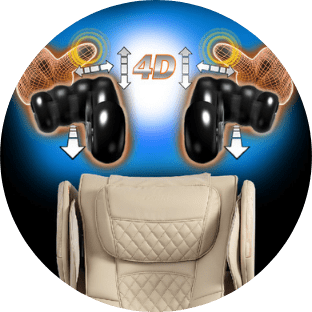 The Osaki OS-Pro Soho's lifelike 4D roller technology integrates a new speed element to the conventional 3D massage. As the rollers slide up and down the 32″ S-Track, the roller intensity can be increased up to five levels. As the roller intensity is increased, the roller heads protrude further into your back. The roller system's versatility makes choosing a mid-strong to deep tissue massage possible. Simply tap 4D+ to increase the roller intensity or 4D- to retract the rollers into the backrest.
The OS-Pro Soho's roller speed variation mimics what you often experience in a professional massage setting: the roller speed slows down, accelerates, or even pauses to press down on key pressure points.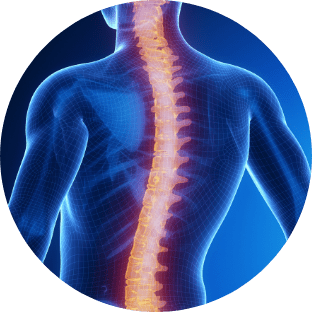 Before starting the massage, the Osaki OS-Pro Soho conducts a thorough scan to analyze your back muscles and spine contours. The chair also detects your neck and shoulder line, personalizing the massage for your unique body shape.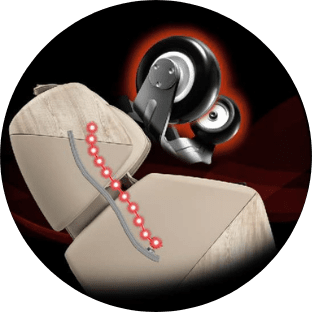 The Osaki OS-Pro Soho integrates a mild infrared heat element into the roller heads. As the rollers glide up and down the S-Track, the roller system warms your body as it massages.
The OS-Pro Soho produces up to 50% more heat coverage compared to standard massage chairs.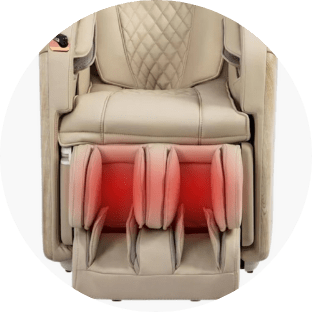 Heat is also located in the calf and knee region down in the footrest. As airbags compress against your calves, the mild infrared heat source warms your calf and knee muscle fibers, easing tension.