Find this model for less? Contact us for a price match.
The Osaki OS-4D Pro Maestro is anchored by its superior and lifelike 4D quad roller system on an ultra-long 53" SL-Track. The OS-4D Pro Maestro is packed with cutting-edge features you would expect in a premium massage chair, including a calf kneading mechanism, heated rollers, touch screen remote, reflexology foot rollers, precise body scanning, airbag compression, Bluetooth, space saving recline, eight auto programs, and much more. From its aesthetically pleasing stitching design to its rich functionality, the OS-4D Pro Maestro will revive your entire being.
Osaki OS-4D Pro Maestro Features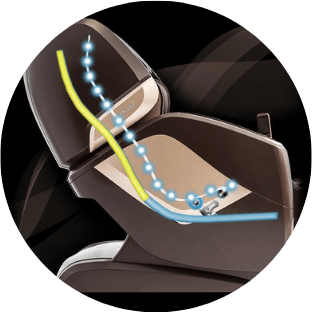 The Osaki OS-4D Pro Maestro's roller track clocks in at 52.8″, making it among the longest massage strokes on the market.
Combining S and L-Track technology, the quad roller system begins at the top of your neck, targets your shoulders, and travels down the entirety of your back. During the extended SL-Track phase, the roller system transitions underneath the seat, kneading your gluteal muscles and upper thighs.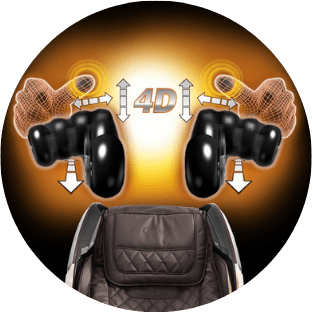 Lifelike 4D Roller Technology
Experience the most human-like roller massage with the first SL-Track that incorporates 4D technology. The Osaki OS-4D Pro Maestro offers eight 4D depth adjustment options. With each increasing level of adjustment, the roller system protrudes further into your back.
Whether you enjoy a mild or deep tissue massage — or anywhere in between — the OS-4D Pro Maestro makes it easy to fine-tune the massage to your preference. With the 4D roller's speed element, the rollers methodically alter the speed or rhythm of the massage to mimic the lifelike style of a human masseuse.