The Titan Pro Jupiter XL boasts a powerful 3D quad roller system on a 53″ track. The Jupiter XL features innovative firsts for a chair in its class, including a unique head airbag system; multi-heating elements; a two-in-one foot "scraping" and roller function; Bluetooth-compatible speakers and phone answering capabilities; and an ultra-long footrest to accommodate a user as tall as 6'6″. Also included are nine auto programs, seven manual massage techniques, space saving recline, Zero Gravity, body scanning, 44 airbags, and more.
Titan Pro Jupiter XL Features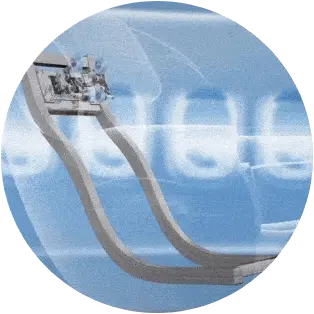 53" L-Track Roller Massage
The Titan Pro Jupiter XL features an impressive 53 inch L-Track roller system, making it one of the longest tracks available in a massage chair today. The four-wheel roller mechanism starts at your neck, slides down the entirety of your back, and tucks underneath the seat to reach your buttocks and upper hamstrings.
The Jupiter XL's ultra-long track allows you to enjoy the benefits of extended roller technology for a deeper tissue in-seat massage experience only found in an L-Track.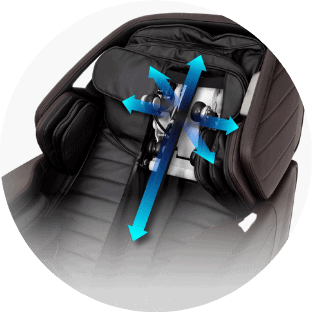 The Titan Pro Jupiter XL incorporates a third dimension to the rollers — the ability to adjust the depth/intensity of the roller massage.
The Jupiter XL offers five 3D roller intensity levels. On the lowest level, the rollers are retracted inside the backrest and this setting results in the mildest possible roller massage. To increase the roller intensity, select the 3D+ option on the remote and the rollers will extend outward and deliver a stronger massage with each increasing level.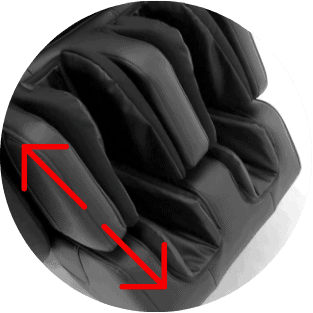 Big & Tall - Fits Up to 6'6"
The Titan Pro Jupiter XL is one of the few massage chairs capable of accommodating a user as tall as 6'6″. The spring-loaded footrest has been engineered to extend 5 inches further than traditional footrests, and from its default position, extends an ultra-long 12.6″.
The seat's base has also been widened and has a total clearance of 21″. The wider seat clearance and extended footrest makes the Jupiter XL an excellent choice for Big & Tall users.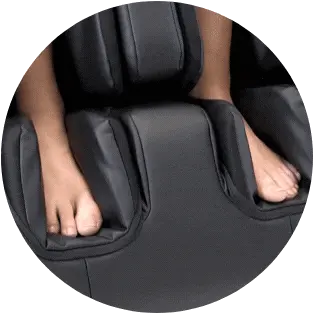 The Titan Pro Jupiter XL is equipped with a dual action foot massage: rolling and scraping. The rolling mechanism mimics the feel of a masseuse's thumbs pressing onto the balls of your feet. During the scraping function, rounded points move front and back, scraping your bridge and heels.
As this occurs, airbags inflate along the sides of your feet in a downward motion, pushing your feet into closer contact with the rollers.
The Jupiter XL's foot roller mechanism has two speeds: slow and fast.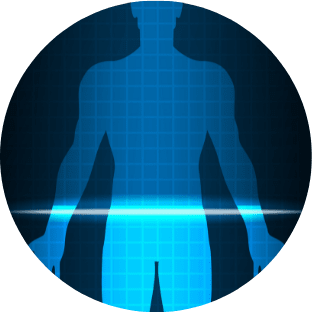 The Titan Pro Jupiter XL's body scan makes your therapeutic massage feel customized. Before any program, the chair's roller system maps your spine's curvature, tailoring the massage to your unique body type.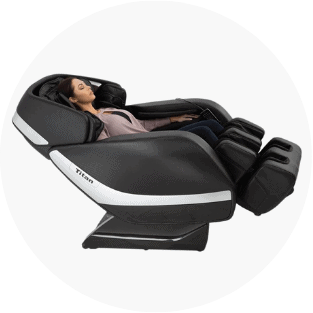 The Zero Gravity recline position places your legs above your heart, mimicking the "weightless" experience of going to space.
The Titan Pro Jupiter XL offers two stages of Zero Gravity. During the second stage, the chair reclines furt