Quick Details:
3D Massage Technology: 3D pneumatic massage technique "pops out" further than any other massage roller. Almost 3" of roller depth grants you the fullest and deepest massage possible with modern technology
Shoulder Wrap Pressure Massage: Rollers actually move up and over your shoulder, at the base of your neck, and will knead the muscles and tendons that exist between your trapezoidal muscles and your lower neck (an area overlooked by other massage chairs, but an area that endures lots of stress daily!). The rollers feel like palms applying strong pressure on your shoulders and neck to really stretch out your muscles
Heated Massage Pads: Heated pads in the backrest will warm and loosen your muscles for luxurious comfort. Loose muscles also allow for a deeper, more robust massage - get more out of your rollers and relax all at the same time!
3D Air Massage: Unlike other massage chairs, which feature airbags that compress and decompress in a uniform way, the SMC-6850 features sophisticated airbag cartridges aligned throughout the chair that act independently of one another, allowing for 'wave-like' air massage motions that stimulate individual muscles
Ankle and Calf Stretching Massage: The leg rests move independently of one another and will stretch, contract, and expand your ankles and calves for maximum flexibility, circulation control, and comfort. Unique torsion effect will rotate your ankle in multiple directions, improving your flexibility and give you relief after a day of standing on your feet
9 Distinct 3D Massage Styles: 3D massage roller technology delivers many different types of massage: kneading, knocking, finger pressing (acupressure), tapping, rolling, pushing, compression, tracking, and Thai stretching. These roller massages target your neck, shoulders, back, hips, and waist.
Zero Gravity Reclining: Levitate and elevate your body and feel weightless with One-Touch automated Zero Gravity reclining technology, designed to take strain, pressure, and weight off your sensitive joints and muscles. This increases comfort, and allows for a deeper massage. Feel like you are floating on a cloud while the rollers work their magic
3D Body Scan System: Intelligent microprocessors and advanced optic sensors assess and map your body's shape, especially on your back, and then adjusts the massage rollers accordingly. It starts with scanning the length of your spine and the length of your legs. This delivers an unprecedented personal massage that is unique to you and your body's needs
Massive Total Target Area: The flexible 3D massage roller has an area of travel that is unmatched in the industry; moving up to 31" up and down your back, and with a fully-extended wingspan of 7.5", this roller unit covers more hard-to-reach areas on your back than any other massage chair for the most complete therapeutic experience imaginable
Thai Stretching Massage: Fully covers your ENTIRE back, including hard-to-reach places, and delivers a complete Thai massage that stretches your back and muscles for intense flexibility and muscle relief caused by common back pain
Ankle and Foot Compression Massage: Utilizes a series of individual acu-precise airbags to target specific acupressure points on the soles of your feet and around your ankle, providing an exemplary reflexology massage. This kneads and presses your feet for fast relief from a long day of standing and walking. It can relieve foot swelling and relax your leg muscles, and reflexology has been shown to improve an overall sense of well-being
Full-Function Arm Massage: Independent armrest unit allows for the armrest to move in conjunction with the chair while continuously delivering a circulation-improving massage; the arm massage features independent airbag technology for an invigorating wave compression massage that will improve circulation in your arms and can provide relief from ailments like carpal tunnel
Full Stereo Entertainment System: With built-in stereo speakers and Mp3 decoder, all you have to do is jack in your headphones and upload your favorite songs on a thumb drive and the SMC-6850 will customize your massage in sync with your best tunes. It's the world's finest example of therapeutic entertainment, stimulating your muscles with a comforting and relaxing massage while stimulating your senses with the sound of music
Built for Comfort and Quality: Beautiful stitched synthetic leather is very pliable and resilient, but also very comfortable and aesthetically appealing. Back pads are designed with you in mind, and your comfort is the primary priority
Detailed Functions and Features:
Our new flagship model, the SMC-6850, represents the apex of modern massage chair engineering, a perfect combination of power and comfort. Featuring astonishingly thorough, laser-precise pneumatic massage techniques and our own unique 3D massage system with built-in heat pad technology (which delivers the deepest, strongest massage of any chair in the industry), this chair testifies to the beauty of technology and the joy of healthy living.
An ergonomic design dramatically improves your comfort and the Zero Gravity one-touch automatic reclining system takes weight and pressure off of your bones and joints. The SMC-6850 can recline as far back as 170 degrees, making you feel light as a feather, and so comfortable you might be tempted to take a nap.
Your massage experience is controlled by a sophisticated series of advanced microprocessors that scan and map the topology of your back, detecting every bump, curve, and indentation -- and then re-calibrates the rollers to give you an accurate, efficient, and perfectly tailored massage session.
Never before has one robotic massage chair offered so many features, functions, styles, and benefits in one sophisticated, luxurious package. Cutting edge therapeutic technology can be yours today.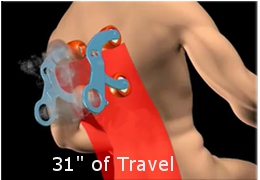 31" Massage Roller
This sophisticated robotic massage chair covers a full 31 inches of travel up and down your back, from the top of your neck to the base of your sacral vertebrae. It starts with gentle kneading and tapping at your neck, and utilizes the patented 3D massage technology to its fullest effect, digging deep into the muscles around your neck and shoulders for fast and powerful relief. The heated backrest adds more luxury.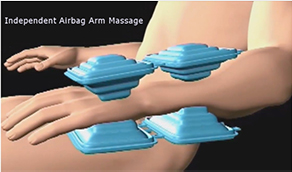 Airbag Arm Massage
Next, outer shoulder airbags apply pressure and stretching technology to your body while the 3D massage rollers move out to your shoulder blades, pressing into your back and stretching your rhomboid muscles and chest.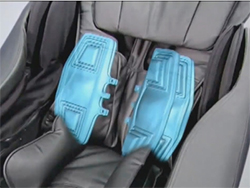 Seat and Back Airbags
9 airbags built into the seat and back apply kneading, rolling pressure to your thighs, hips, waist, and buttocks to relax and de-toxify the muscles and skin. Proprietary waist torsion technology rotates and stretches out your obliques, and provides soothing care to your sensitive hip joints and lower spine.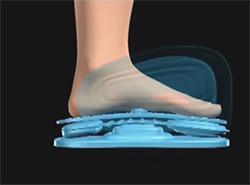 Extended Ottoman
The extensible ottoman is automatically adjustable for a relaxed fit, and our totally unique ankle and calf stretching function will rotate and press your calves and feet for maximum stretch, and maximum relief. This can increase your flexibility and reduce pains associated with standing on your feet all day long.
Arm Massage
Each built-in arm massage features 3 airbags that act independently of one another, expanding to apply pressure to specific acu-points on your arm as the need arises. This is what creates the SMC-6850's unique arm "wave massage" effect, which can drastically improve circulation to your hands and forearms, mitigating pains commonly associated with arthritis and carpal tunnel syndrome. Meanwhile, the massage rollers move down your spine toward your lumbar and sacral vertebrae, kneading and pressing these commonly-overlooked areas and giving instant relief.